Nighttime Biofeedback is Like Brake Lights On The Car In Front Of You
The headband detects muscle signals (EMG) that indicate clenching, and it signals you with a gentle sound that prompts you to stop clenching. It's like the brake lights on the car in front of you. They don't stop your car. They signal you when to stop your car, and you take the action that stops your car. After a little practice, you can do it without thinking about it, because you know that responding quickly and cooperatively keeps you safe.
How You Learn to Respond In Your Sleep Without Waking Up
When the SleepGuard biofeedback headband detects that you are clenching, it makes a gentle sound that reminds you to relax your jaw muscles. After a little practice responding to that sound when you are awake, that practice allows you to respond in your sleep without waking up. The SleepGuard biofeedback headband not only provides biofeedback, it also tracks how many times you clench each night, and the total number of seconds you clench each night, so you can see how much your clenching is reduced over time.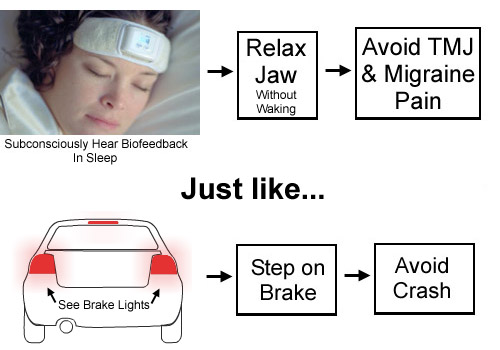 How You Make Sure Your Daytime Practice Lets You Respond Well in Sleep
To condition yourself to relax your jaw quickly and cooperatively each and every time you are signaled in your sleep, these are some of the important things to include in your two minutes of daytime practice:
Relax your jaw as soon as the quietest part of the biofeedback sound is heard
Practice while doing an activity that you will practice willingly interrupting when you hear the sound. This practices being willing to let go of the dream you are having at the start of your clenching.
Quickly and cooperatively relax your jaw and separate your teeth.
Imagine yourself doing that naturally and easily each time you hear the biofeedback sound in your sleep.
Imagine yourself waking refreshed and rested and feeling great.
Measuring Your Initial Level of Nightly Clenching and Grinding
During the first few days, you wear the SleepGuard biofeedback headband at night with the biofeedback sound turned off. This lets you measure your baseline clenching level. Each morning, you can read out of the unit how many times you clenched and the total number of seconds you clenched the night before.

How the Hardware Works
The heart of the SleepGuard is a small electronic module that allows you to select a custom conditioning program for you. SleepGuard's front control panel features MODE and SET buttons that let you select how loud the biofeedback sound is, and how hard you have to clench to trigger the biofeedback. The display can show:
Score - number of times you clenched since you last reset the unit
Time - total duration of clenching since you last reset the unit
Volume - volume of the RelaxTone biofeedback signal
Bite Level - how hard a bite it takes to trigger the biofeedback sound
The back of the module is the biofeedback sound generator, which enables you to hear the biofeedback sound in both ears through your forehead.


Headband
The comfortable fabric headband includes two conductive rubber sensor pads (like those found on a heart-rate monitor), which rest against your skin. Through these sensor pads, the electronic module measures how hard you are clenching, by sensing tiny EMG signals given off by your clenching muscles. The headband is fully adjustable for all head sizes. The headband and module are hypoallergenic and don't put any electrical currents or electromagnetic fields into your body.


RelaxTone™
RelaxTone is a patented innovation of SleepGuard. Because you hear the biofeedback sound in both ears from the sound touching your forehead, you will be able to hear the sound much better than someone sleeping next to you. This allows for lower volumes that won't wake your partner, and eliminates the need for an uncomfortable earpiece that could interfere with your own sleep.
The tone comes in three levels:
FAINT - A faint tone begins immediately upon clenching and continues for 2 seconds, giving you time to stop clenching while still asleep.
ALERT - If you don't stop clenching, the tone volume gradually increases (to a level set by you). Your SCORE increases one point, and the TIME function starts counting seconds.
ALARM - After 5 seconds, the constant tone switches to an intermittent alarm, which continues until clenching or grinding stops, or the unit shuts itself off in 30 seconds.

Wearing the SleepGuard biofeedback headband

| | | | | |
| --- | --- | --- | --- | --- |
| | | | | |
| 1. Press the button to turn SleepGuard on. | | 2. Put on the fully-adjustable headband. A quick pair of beeps lets you know that SleepGuard is working. | | 3. Go to Sleep |